Today, I thought of discussing about the license costs involved for each BI tools available in market. Before i delve into the license terms, let's discuss about each Business Intelligence tool benefits for business users.
What is Business Intelligence ?
Business intelligence comprises the strategies and technologies used by enterprises for the data analysis of business information. BI technologies provide historical, current, and predictive views of business operations.
Common functions of business intelligence technologies include reporting, online analytical processing, analytics, dashboard development, data mining, process mining, complex event processing, business performance management, benchmarking, text mining, predictive analytics, and prescriptive analytics. BI technologies can handle large amounts of structured and sometimes unstructured data to help identify, develop, and otherwise create new strategic business opportunities. They aim to allow for the easy interpretation of these big data. Identifying new opportunities and implementing an effective strategy based on insights can provide businesses with a competitive market advantage and long-term stability
(Ref: Wikipedia)
In my experience seeing customers expectations with business intelligence tools, I define them based on two types of users:
Small Scale Users – Expects quick insights with data available
Enterprise or Large Scale Users – Expects varied options from BI tools (Enterprise scalability, Depth of functionalities, Superior Reporting Capabilities, Single Integrated Applications, Self Service analysis and what not ? )
Goal
My perspective of Business Intelligence (BI) is the process of analyzing your organization's accumulated raw data and extracting useful insight from it. A good BI system provides decision makers with the right information, at the right time, in the right place, enabling them to make better business decisions.
The goal for business users is to derive insights and take pro-active decisions from the data they analyze upon.
The goal of BI tools is to allow anyone using the information provided to make better business decisions.
We all know that, Microsoft Excel is widely used analysis tool globally & as they have limitations dealing or working with large volume of data – customers tend to invest on Business Intelligence tools.
Everyone very well know that, though executives or corporations invest $$$$ money on BI tools, still the business users go finally with Excel for analysis by extracting data via BI tools 🙂
Tools Considered
I have considered below tools for this blog post focus w.r.t. Licensing :
MicroStrategy
Microsoft Power BI
Salesforce Tableau
Qlik
Thoughtspot
Google Looker
**Before i go deeper on each tool, this blog was written in July, 2021 & pricings are based on available information on the social media portals and corporations websites only. Few are captured based on discussions with respective SMEs from each corporations. There is no personal intent to promote or degrade any BI tools here – it is purely to share knowledge with community to know more about respective licensing terms for each BI tools. **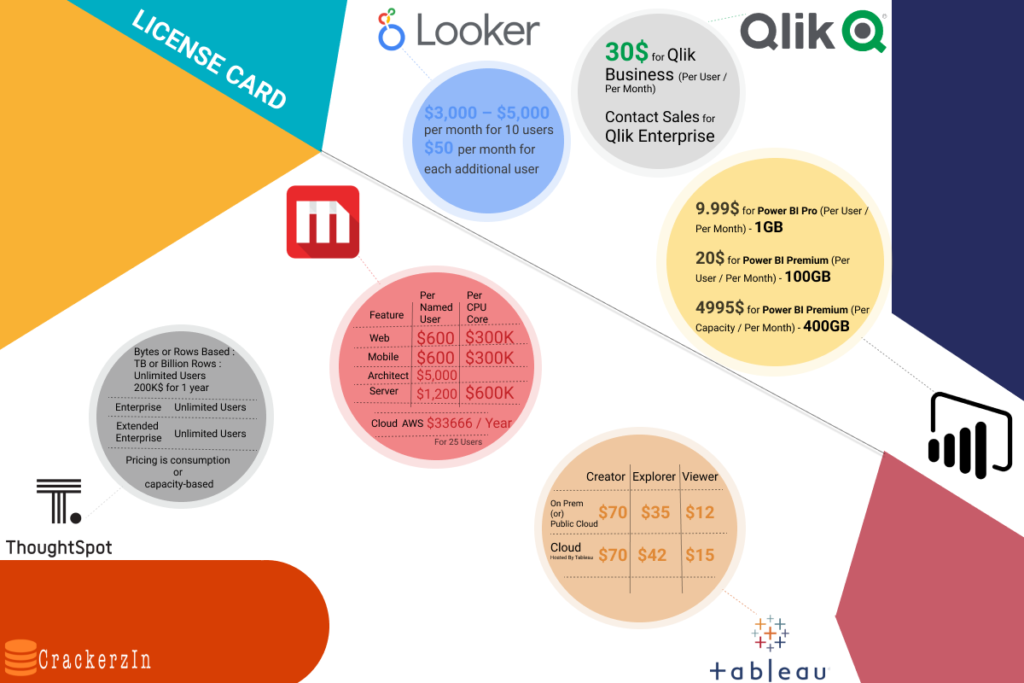 MicroStrategy
MicroStrategy Incorporated is a company that provides business intelligence, mobile software, and cloud-based services. Founded in 1989 by Michael J. Saylor, Sanju Bansal, and Thomas Spahr, the firm develops software to analyze internal and external data in order to make business decisions and to develop mobile apps.
It is definitely an enterprise business intelligence tool that can scale or work with larger volume of data with experienced specialists maintaining and managing it completely in back-end to provide rich analysis for business users.
There are two types of license model followed here:
User Based – in which the number of users with access to specific functionality are restricted
CPU Based – in which the number and speed of the CPUs used by MicroStrategy server products are restricted
Below is the pricing captured for Named Users model :
Web Package : $600 / Named User
Mobile Package : $600 / Named User
Architect Package : $5000 / Named User
Server Package : $1200 / Named User
Ref: https://reviews.financesonline.com/p/microstrategy/
Below is the pricing captured for CPU Users model :
Web Package : $300K / CPU Core
Mobile Package : $300K / CPU Core
Architect Package : $5000 / Named User
Server Package : $600K / CPU Core
Ref: https://reviews.financesonline.com/p/microstrategy/
There are also additional pricing for add-on's like below:
Hyper Intelligence
Collaboration within Library
Office Plug-Ins
Cloud Pricing
Recently, there has been an heavy push into Cloud based analysis and MicroStrategy is always on top of it providing customers with cloud based setup (AWS, Azure – Primarily & I'm sure they will work fine on Google cloud as well)
Ref: AWS
Hourly Pricing for AWS
Annual Pricing for AWS
I know, lot of BIG Corporations willing to invest in MicroStrategy due to its strong and robust tool that can provide various functionalities and feature to business users. Especially – key benefit is providing "Single Version of Truth" – if designed well by experienced specialists, then this is the best class business intelligence for an enterprise customers.
Microsoft Power BI
Power BI is a business analytics service by Microsoft. It aims to provide interactive visualizations and business intelligence capabilities with an interface simple enough for end users to create their own reports and dashboards. It is part of the Microsoft Power Platform
As we all know, Power BI has been market leader in BI space & definitely an treat to business users who come from excel background. It is very easy to learn for an business users and start insights pretty fast. It works well with Microsoft products (Share point, Microsoft Teams, Microsoft Office & etc.,) while other BI tools might require SDK or additional add-on to it.
We have two mode of license :
Power BI Pro (Per User) – $9.99 Per User / Per Month
Power BI Premium (Per User) – $20 Per User / Per Month
Power BI Premium (Per Capacity) – $4995 Per Capacity/ Per Month
I know, they are pretty cheap for an business user to chime in and start looking at insights easily. Hence, large volume of users are pushed to Power BI majorly.
If you need an governance setup, then definitely there are lot to follow to be aligned with best practices and setting up standards. It will definitely be going to difficult as corporations grow in consuming the Power BI reports/dashboards. Microsoft has documented everything so detailed for small scale customers vs large scale customers on best practices , standards & white paper for setting up an robust environment.
There are limitations on each BI tool and from my experience – i can surely tell – Dashboards are not that great (as no slicer interactions, pretty static & provides alerting only on dashboards on KPI) while reports can be used as an dashboard but cannot access multiple datasets. It is good with star schema model than snowflake model. I know, customers are ready to focus more on quick insights + faster data in hand on web/mobile/tablet at single price per user being paid.
Power BI cloud is heavily consumed by business users than On-Prem setup. Reason being, Power BI releases lot of great features every month which helps business and technical folks to keep the customer on driving seat always 🙂 whereas Report server (on-prem) is far behind on many great features available on cloud. Good strategy by Microsoft on each limitations i talked about 🙂
Ref: Power BI
Bonus on Power BI is that, If you have got Power BI Premium or Pro license – then Mobile is free to consume & no extra license.
ThoughtSpot
ThoughtSpot, Inc. is a technology company that produces business-intelligence analytics search software. The company is based in Sunnyvale, California with additional offices in London, Bangalore, India, Seattle and Tokyo
I had seen the product myself and should say – they are the only company who was honest and be bold in saying what exactly they offer to end users or business users unlike other vendors. I love this bold approach and recommendations to customers and highlighting their key features of powering AI/Search based analytics – Sounds cool and well designed product for business users.
I know, as the business and consumptions shift from traditional BI to Modern BI – i should agree that, it helps business to shift towards Modern BI with search based insights being provided real quick for end users.
My only worry was towards traditional BI users who uses grid reports which is heavily formatted for an Banking or Financial or Regulatory reports – this won't be an cup of cake for those users. As it is not intended for such pixel perfect design – i would expect. If small scale customers or customers who is more interested for self-service on larger volume of data with search based insights – then this is the go to BI tool definitely.
Their licensing is pretty unique as well than any BI tools
Enterprise : Unlimited Users
Extended Enterprise : Unlimited Users
Their Pricing is mainly based on consumptions or capacity based. If you consume, you pay & if no consumptions , then not to pay.
Speaking with an account executive, Bytes/Rows Based licenses (i.e.) TB or Billion Rows with Unlimited Users would cost $200K / Year
Salesforce Tableau
Tableau Software is an American interactive data visualization software company focused on business intelligence. It was founded in 2003 in Mountain View, California, and is currently headquartered in Seattle, Washington. In 2019 the company was acquired by Salesforce for $15.7 billion.
Tableau is one of the leaders in the BI space for several years and would love to see how it pans out in next few years with acquisition that happened recently by Salesforce.
For Individuals : Tableau Creator > $70 Per User Per Month
For Organization :

On-Prem or Public Cloud

Tableau Creator >> $70 Per User/Per Month
Tableau Explorer >> $35 Per User/Per Month
Tableau Viewer >> $12 Per User/Per Month

Fully Hosted Cloud

Tableau Creator >> $70 Per User/Per Month
Tableau Explorer >> $42 Per User/Per Month
Tableau Viewer >> $15 Per User/Per Month

Tableau Data Management Add – On >> $5.50 Per User/Per Month
Einstein Discovery in Tableau >> $25 Per User/Per Month
Resource Blocks for Tableau Prep >> $250 Per Resource Block/Month
Ref: Tableau
Bonus on Tableau is that, If you have got Tableau Viewer license – then Mobile is free to consume & no extra license.
Qlik
Qlik [pronounced "klik"] provides a business analytics platform. The SaaS software company was founded in 1993 in Lund, Sweden and is now based in King of Prussia, Pennsylvania, United States.
Qlik Sense Business : $30 Per User/Per Month
Qlik Enterprise : Contact Sales
Qlik Cloud : $15 Per User / Per Month
Ref: Qlik
Google Looker
Looker is a business intelligence software and big data analytics platform that helps you explore, analyze and share real-time business analytics easily.
Pricing of Looker is not accessible to end users
Upon research found this pricing

$3000 – $5000 Per Month for 10 Users
$50 Per Month for each additional users
Ref: Quora
Final Summary
All the above analysis are purely from my experience and references captured to derive these numbers. Each tool has its benefits based on customer needs. Also Account Executives of each vendors are good in providing better benefits for customers based on their needs – so the costs can vary drastically based on need of customers.
Personally from my experiences I feel, few BI tools can make their licenses easier to understand for customer adoption to be heavier like Microsoft. Mobile should be made free by BI tools in current trend of data analysis (i.e.) similar to recent leaders in Business Intelligence which follow good strategies in providing that, than charging customers for that.
What are your thoughts ? Feel free to share them below in comments. Thank you!
Enjoy reading!
Additional Tip
For reviewing BI tools based on Gartner Rating – Feel free to review below Viz created on Tableau to compare and contrasts various business intelligence tools
Viz Link : Gartner Comparisons BI Tools