From MicroStrategy 2020, you can use visualization in one dossier to filter data in another dossier. Much of like Report Service Document or Report Linking feature introduced within Dossier as well.
For Dossier, It has to match source viz and target viz with same set of attributes and metrics used in filter panel (i.e.) to successfully pass the filter, the attributes and metrics used in the Filter Panel for both the source dossier and the target dossier must be the same.
Limitation here is that, it works well only with schema based model (i.e.) Project Schema attributes and metrics, but it may not on MTDI or Data Import (unless both source and target dossier uses same source or same MTDI Datasets)
How to Setup Link (Explained nicely in the MicroStrategy Help Link – Thanks MicroStrategy for sharing it!) : https://www2.microstrategy.com/producthelp/Current/Workstation/WebHelp/Lang_1033/Content/Using_a_prompt_to_filter_data_in_another_dossier.htm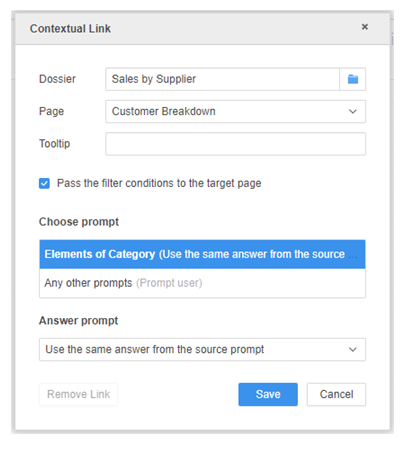 More details on this limitation is explained by MicroStrategy in the KB article : KB483883
Enjoy Reading!!