Before I jump straight to the dashboard contest – let me provide some information about Vitara Charts & MicroStrategy here for the folks.
MicroStrategy
MicroStrategy Incorporated is a company that provides business intelligence, mobile software, and cloud-based services. Founded in 1989 by Michael J. Saylor and Sanju Bansal, the firm develops software to analyze internal and external data in order to make business decisions and to develop mobile apps. (Source: Wikipedia)
Vitara Charts
Beautiful, functional charts for MicroStrategy
Here are some of the highlights about Vitara charts – Why use Vitara Charts ?

If you are an MicroStrategy user, then I would highly recommend users to take advantage of Vitara charts for enhancing the visualization with Vitara Charts which works well on Dossier, Documents, Library, Mobile & Desktop.
Desktop is FREE !!~ so don't wait & Grab the free license key file to use on Desktop edition.
Vitara Download : https://docs.vitaracharts.com/main.html
Vitara Charts – Dashboard Contest
Every year, Vitara Charts organization organize this dashboard contest for data evangelist or users to showcase their skills with Data + Vitara Charts + MicroStrategy for the world to know more about data story telling (along with tool capabilities Vitara + MicroStrategy power)
Contest URL : Vitara Dashboard Contest
Software's Required
Design the dashboard with freeform layout design or normal layout design with an compelling story telling (using Vitara Charts 🙂 ) ~ Submit the snapshot of the dashboard/dossiers with below listed email ID to win the contest.
Tips
Use Vitara Charts (My favorite is : Calendar Viz & Tornado Viz) — Let me know yours in comment below 🙂 !
Use Freeform Layout
Use Keyboard Shortcuts
Link Dossiers to create workflows
Use Compound Grids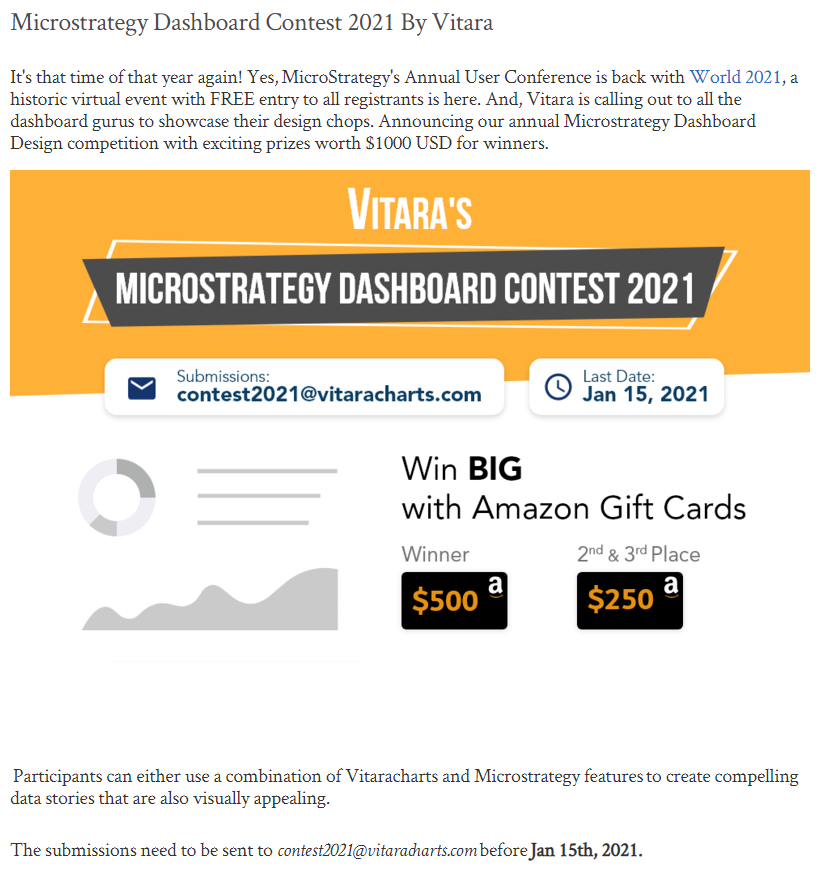 If anyone faces any issues with download or install of Vitara Charts integration with MicroStrategy Desktop – Feel free to reach out to me!!
Note: All participants are eligible to get a temporary key for Vitara charts valid for 90 days. 
Excited to see what everyone Dashboard/Dossier is going to be!!