Vitara Charts : 30+ Charts/Viz – Helps business thrive to know the data in meaningful way
Change is the only constant. Vitara team continue to be wow-ed by new and interactive ways to showcase data around us. And so, to meet this demand for more intuitive, user-friendly, and interactive options Vitara charts add on​ with​ 30+ new charts and supercharge​s​ your MicroStrategy platform.
If you would like to know more in detail before joining Webcast – i recommend visiting their viz to play and see
URL : https://www.vitaracharts.com/
Viz Demo URL : https://cloud.vitaracharts.com/VitaraChartsPlayLive/servlet/mstrWeb?evt=2048001&src=mstrWeb.2048001&documentID=40EA60C711E8FC3508860080EF450D8D&currentViewMedia=1&visMode=0&hiddenSections=path&Server=vitara-mstr-prod03&Port=0&Project=MicroStrategy+Tutorial&

Join Vitara Team for a LIVE DEMO of Vitaracharts along with an exciting offer!

Register here: https://webinar.vitara​charts.com​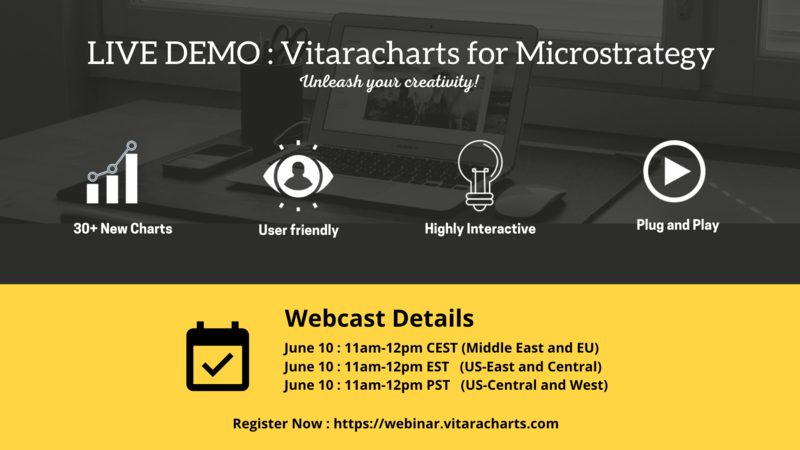 Fits all needs: ​30+ new chartsUser friendly: ​Easy interface ​and highly interactive​
​Hassle-free experience with full support and maintenance​Works everywhere​ LIBRARY.MOBILE.DESKTOP.WEB
Multiple Sessions available inconvenient times for ​the Middle East, ​Europe as well as North America time zones
Hope you all enjoy the webcast!!